Our leather & wicker paint care is designed to fix any touch ups on your bag and make it feel brand new.
Extra discounts not applicable on Black Friday sale items.
Secure Payment
Our leather & wicker paint care is designed to fix any knocks and bumps on your bag and make it feel brand new.
Instructions:

Our water based paint suitable for touch ups on both the Leather and Wicker to prolong the new bag feeling.
- Suitable for the wicker and leather
- Apply 1-2 coats with brush provided
- For best results, apply thin layers
- Allow to dry at least 30 mins in between coats

Product Details:
- Water based pigment colourants
- Made in England
- Keep out of reach of children
- Keep container tightly closed
We ship worldwide, all orders will be dispatched within 5-8 business days.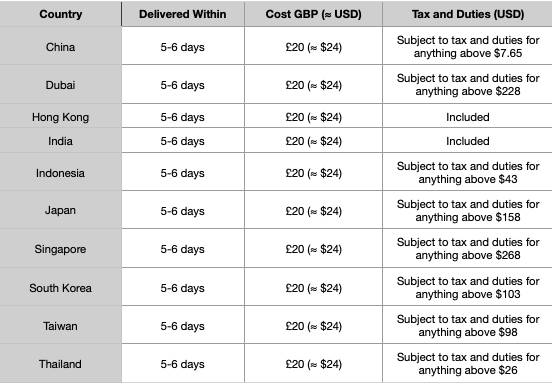 At present, we unfortunately do not ship to Russia and Europe.
Please note our Tote bags have different shipping rates and dispatch dates, please see more on our shipping page for Totes here.
We do not process, ship or deliver orders at the weekend or bank holidays, any orders placed on these days will be processed on the next working day.
Customs, Taxes & Import Duty
Please note, that all prices above are not including import taxes.
If your order is subject to taxes and duties we are unable to advise the amount, as they change from country to country depending on local imports legislation. Occasionally goods may be subject to delays, due to customs or extreme weather conditions.
If your order is subject to taxes and duties, we are not responsible for the custom and taxes charged on your shipment. Any applicable fees will be due upon delivery.
Using high quality materials, we design bags that are made to last for years and get better with age. With a little bit of care and attention your handbag can follow you for years to come.
The wicker body is delicate but robust, this means the wicker body can endure knocks and bumps but a little extra care is needed when using the bag.
Our baskets have been thoroughly tested over the years to withstand various conditions.
Our bags withstand all temperatures.
Our bags are completely waterproof, but we suggest avoiding any heavy rain.
Our vegetable tanned leather shows off the material in its most natural state, maintaining natural flaws and markings inherent from the skin of the animal.
We hope you appreciate the slight variations in the leather.
With proper care, vegetable tanned leather can last many decades. Every few months we recommend applying a little leather balm to the leather and rubbing it in with a soft cloth. (Test on a small visible area before using any cleaning or polish products thoroughly).
Whilst not in use, keep your bag away from sunlight whilst storing inside your dust bag to preserve its beauty.
your impact
ARTISANAL JOBS
Wicker weaving is declining, but we can sustain this art together
rattan
Rattan is a restorative plant that helps the environment
Handmade
We provide reasons for the next generation of handmade artisans to exist
MADE IN ENGLAND 
Our studio of artisans transform baskets into handbags
italian LEATHER
Our leather is produced using only natural ingredients
Ethically Made
We trade and source materials fairly and ethically
Customer Reviews
Hear what our amazing customers have to say.
A New Generation of Wicker Handbags
FOR ALL SEASONS
We have tested the wearability of our bags for years. Our bags can be used in all types of weather.
Design
Inspired by women of today, we design perfect investment pieces that will last you for years to come.
VERSATILE
Our bags are designed to hold all of your essentials in the day and follow you into the night.
Sustainable
We create products that impact the environment as little as possible. A conscious product perfect for your wardrobe.